Celebrate Module House
1-6 hours -$179
6 -12 hours -$229

Optional: Attendants available at $30 per hour (may be required for some public locations).

Product Dimensions:
Length: 14'4" (4.37 m)
Width: 15'4" (4.68 m)
Height: 13'0" (3.97 m)
Weight: 175 Lbs. (80 kg)
Got Bounce? The large Module House Jumper provides over 200 square feet, perfect for all size gatherings of friends! Classic styling, economical pricing and interchangeable art panels make the Module House a must-have revenue generator for every family entertainment, rental and amusement business. Inflatable jumps are one of the most popular amusement choices because they are loved by children, healthy, simple and cost-effective. Bouncing puts you in a state of health and fitness, improves your sense of balance, provides an aerobic effect for your heart, strengthens your muscles, increases the capacity for respiration, results in a better mental performance and comes in all your favorite shapes and themes! This one is shown with the celebrate panel.
Made with high-visibility, fire resistant mesh around all sides and our lite n' strong vinyl, these Houses are made with the only lightweight vinyl that is fire retardant yet strong, having the highest tear and tensile strength of any vinyl on the market.

Schematics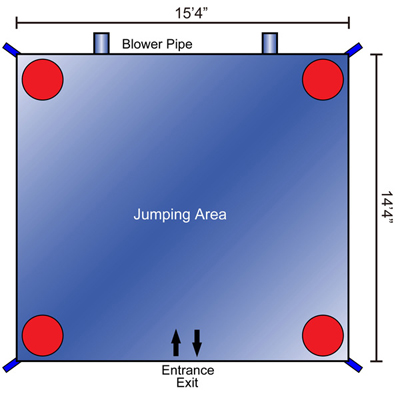 Moonbounces, moon bounces, bounce houses, and jumpers are one of the funnest ways to celebrate any event. Birthdays, Special occassions, or even just a summer party. We offer the best and largest selections in inflatable entertainment. You can also hire one of our experts so run or supervise all equipment rented from us. This includes any concession stands. We offer popcorn machines, cotton candy machines, snow cone or sno-cone machines, and dunk tanks! Please contact us with any questions you have.
Proudly serving Virginia, Maryland, Prince William, Stafford, Fauquier, Loudoun, Prince Georges, Fairfax, Arlington, and DC